MILQ Apartments wins top Australian residential gong at Asia Pacific Property Awards
MILQ Apartments in North Melbourne have been announced as the winner of the The 5 Star Award for Best Residential Development Australia, at the Asia Pacific Property Awards in Bangkok recently.
Architecturally designed and delivered by Plus Architecture and developed by Prince Developments, this boutique apartment building in the bustling suburb of North Melbourne features 40 one and two bedroom residences.
MILQ Apartments wins 5 Star Award for Best Residential Development Australia at the Asia Pacific Property Awards
Mismatched rectangular shaped blocks slice up the exterior of the four-storey development creating intrigue and resulting in a visual setback on the third and fourth storeys to match the two-storey façade that lines the street.
"Thank you to Plus Architecture for producing such a bold, elegant design that caught the eye of the judges," said Peter Mitrevski, Managing Director of Prince Developments.
"The project provided all the elements of a winning submission, from location, architecture and functionality."
"MILQ tells a compelling story of urbanisation from the early 1900's, to modern day architectural integration and gentrification."
The building draws its name from the adjacent Bulla Dairy building, referencing and paying homage to the site's strong industrial Victorian heritage.
"The materiality of the façade offers this typically industrial area a contemporary twist," said Ian Briggs, Director of Plus Architecture.
"We incorporated the use of timber on the balconies, to create a modernist palette and enhance the sense of warmth and openness against the cool concrete façade."
"Here at Plus we strive to design beautiful buildings that enhance their neighbourhoods, so it's an honour to be recognised with this award."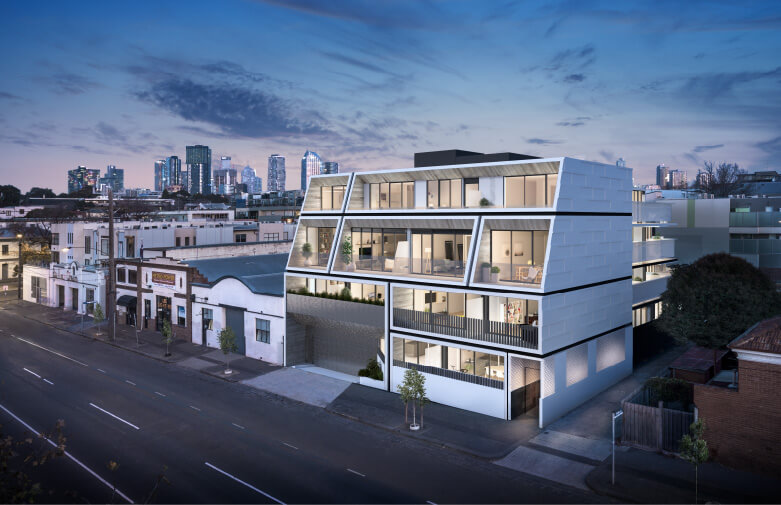 Plus Architecture also designed MILQ's interiors, which reference the industrial heritage of North Melbourne in a modern, timeless way. Apartments are kept light, bright and sympathetic to the building's exterior, with timber floors throughout, creating a natural, open setting.
Glass brick apartment entry lights are an attractive play on the building's modern entrance. Apartment fixtures add an additional layer to the industrial aesthetic with gunmetal coloured tapware, metallic and timber veneer finishes, bath and freestanding bedroom joinery, while a modern warehouse inspired palette and the use of stone splashbacks provide a seamless and contemporary contextual finish.
In the final stages of construction, MILQ Apartments are slated for completion in the next few months.