Enjoy the best of both Prahran and Windsor at East Village
Luxurious interiors, high-quality fittings and finishes, and a sense of space are the dressings which make an apartment great but the location is the foundation — and East Village, comprising just 16 residences, has it all.
Developed by Prince Corporation with design expertise from award-winning studio Ewert Leaf, the project comprises a range of residences to suit varied home buyers.
Residing on a premium corner site, the one bedroom apartments are the largest in the suburb, while on the top level, the penthouse takes up a whole floor and has six car parks. No matter the differences, though, each and every home has been carefully crafted to suit the future owner occupiers and enhance the living experience.
"We have brought together a highly talented group of architects, interior designers and consultants to make our creative ideas a reality," says Peter Mitrevski, Managing Director of Prince Corporation.
"Our brief as a company is always around timeless quality. This flows from the exterior through to the interiors, creating a motif that will be recognisable for years to come."
Discerning purchasers will appreciate the level of inclusions found within these homes. Terrazzo floors bring an element of bold sophistication to the bathrooms, while marble benchtops in the kitchens present elegance at its most refined. The materials have been chosen as much for their stunning appearance as their sturdy quality and ability to age gracefully.
As a suburb, Prahran has a village-like atmosphere akin to the one found in New York City. Beloved for its contemporary flair and eclectic array of recreation, it has a laid-back and relaxed charm despite its central location.
From trendy cafés and eateries such as Fourth Chapter and Middletown to The Smith and Tsujiki Restaurant, Prahran has long been heralded as a food lover's paradise. Towards the end of Chapel Street and down its many side streets, there's a diverse collection of bars. And at East Village, residents are perfectly placed to gain access to it all.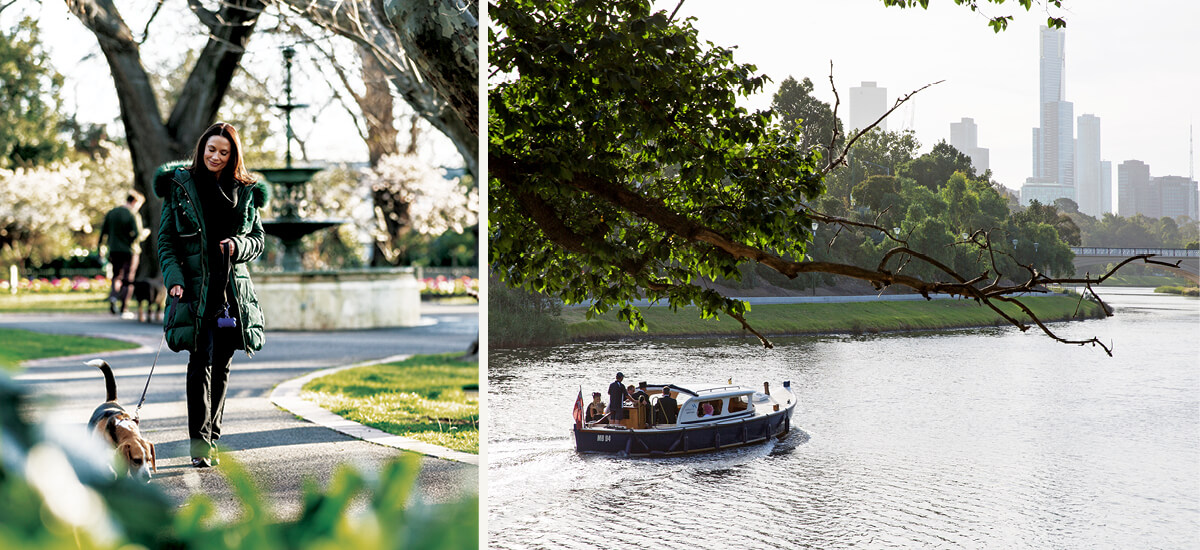 Also nearby, Hawksburn is set in a quiet pocket and has more of a subdued vibe than its vivacious neighbours. Showcasing a penchant for European-style amenities, the area is characterised by its stylish restaurants, abundant food stores and a suite of high-end boutiques.
Connect with nature at Victoria Gardens. Here, the two-hectare park remains the most intact public garden in Prahran, having retained its original plantings which pay homage to its Victorian history. Alternately, residents can visit the Prahran Aquatic Centre with its outdoor heated 50-metre pool, spa, and sauna to achieve a truly well-balanced lifestyle.
With both the Prahran and Hawksburn train stations nearby, as well as the No.6, No.72 and No.78 tram, travelling to and from the city and exploring the surrounding suburbs is easy.